Here you can view Immotec's most recent Press Releases. (Requires Adobe Acrobat)
Immotec announces VISOR 360 Cloud Service - Rock solid backup and recovery for iSafe Pro 360 files and databases.
Visor 360 Cloud Service will ensure that your access control system files and databases are automatically backed up to our mirrored, secure, offsite data center daily. Visor 360 Cloud Service is a reliable, cost-effective alternative to traditional backup methods. You will never have to worry about computer hardware failures or someone accidentally deleting your data.
Immotec announces DIGITOUCH MINI a high security biometric reader.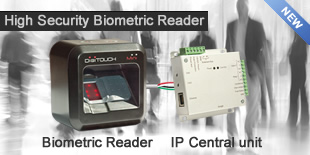 DIGITOUCH MINI is a high security biometric fingerprint reader connected to a TCP/IP control module with two relays (Door and Alarm) secured by an RS485 connection. It is equiped with an infrared fingerprint sensor and colored LEDs (blue, red, green) which indicate the status of the door and alarms. The Biometric Mini reader is IP65 and ideal for outdoor use and waterproof.
Immotec announces Contactless smart credential with full on-card fingerprint technology.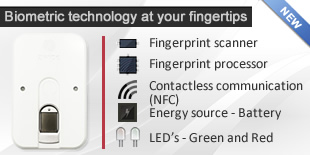 Zwipe is the first contactless smart credential with full on-card fingerprint scanning and matching ability. No external databases, all personal data remains on the card. Only the owner can activate the card, which then sends standard signals to the iSafePro 360 Access Control system for authentication. Zwipe delivers true biometric technology at your fingertips.
Immotec announces Samsung SRD Series integration with iSafe Pro 360.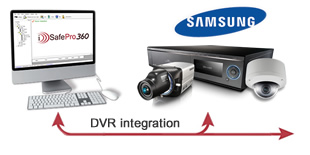 Immotec announces the integration of Samsung DVR technology with our iSafePro 360 Access Management Software. Our iSafe Pro 360 Software integrates with Samsung SRD Series of DVRs. iSafePro 360 users can play event related videos – as well as live video - from a specific camera simply by clicking on the video camera icon within our Access Management software.
Immotec announces Assa Abloy's APERIO integration with iSafe Pro 360.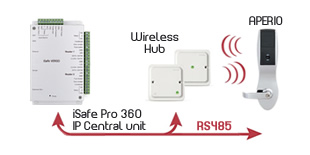 iSafe Pro 360 has been fully integrated to work with Assa abloy's APERIO wireless locks protocol to deliver wireless capabilities to our online real-time access control solution. You can now manage APERIO wireless locks to communicate back and forth with our iSafe Pro 360 central unit, wirelessly. This technology truly redefines wireless Access Control.
Immotec is proud to introduce iSafe Pro 360 - A complete range of Access control solutions.

iSafe Pro 360 is a complete range of Access control solutions suitable for small to large buildings/businesses requiring online real-time monitoring and flexibility. Our iSafePro 360 range includes IP based proximity Access Control, Hands-free Access Control, advanced biometric modules, IP Surveillance integration, wireless Access Control and much more.
Immotec is proud to introduce iSafe Pro Standalone system, the friendly, patent-protected entry control solution.

Immotec Systems strengthens its business development by announcing the launch of iSafe PRO®, a smart and versatile RFID access control system suitable for residential and commercial properties alike. Based on advanced RFID (Radio Frequency Identification) technology, the iSafe Pro can be used as a standalone offline system requiring no complex computer infrastructure, simple to install and easy to use.
Immotec is proud to announce the launch of a new RFID product for the airport industry.
Immotec Systems is pleased to announce a new product for the airport industry. By using "smart card" technology, this new system will allow management to assign specific pieces of equipment to specific employees for a specific time.