The access control industry is going mobile. NFC-enabled smartphones will provide the industry with new ways to create, use, and manage secure identity. By using capabilities inherent to the smartphone, end-users will have a single ubiquitous device that provides access to the front door of their home and workplace and secure access to corporate networks and equipment.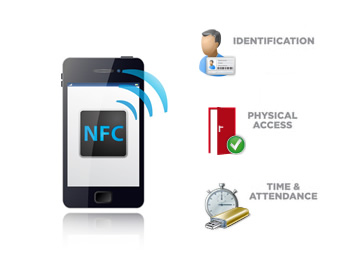 Immotec provides solutions that address this rapidly emerging mobile access industry and provide real world solutions of this new technology.
Our NFC enabled solutions offer users wireless management for their access control system. The platform combines mobile data communication with NFC technology to generate and reprogram access cards, create new system users without physically delivering a card, make changes to remote client access without having to reprogram the door controllers or cards, generate remote visitor access, cancel access for lost phones and reactivate them if they are found. The platform can also incorporate access to many different facilities in the same phone.
For businesses, incorporating a security badge into a phone is valuable for more than just cost savings and increased control. Employees will be able to use the NFC tap for countless time-saving/real-time-data creating actions and security can be incorporated every step of the way. Furthermore, these actions can trigger cascades of automated or smart reactions. An employee could use their phone to enter a building and behind the scenes middleware will capture the information and relay it to the time and attendance and access control management software.
Give us a call and discover how Immotec's Mobile solutions give users complete mobile control over entry – even when physical keys are lost.