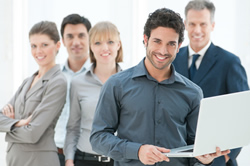 Immotec Systems manufactures revolutionary Access Control Systems for the commercial and residential industry requiring online real-time monitoring and flexibility. Our systems are based on RFID, patented technology and Power Line Communications and implement smart cards and smart card controllers that offer easy installation and use, without sacrificing their effectiveness in terms of security.
Immotec offers you an access control solution for your business, condo or apartment building, no matter how large or small your needs are, no matter how basic or complex your site structure is. Whether it's to control one door or hundreds of doors in multiple sites, Immotec has a system that can meet your needs.
We invite you to explore our site to learn more about Immotec products and services.